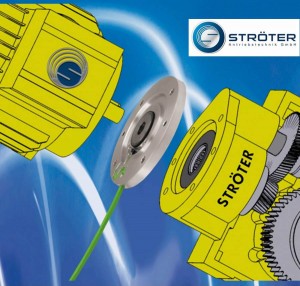 STRÖTER has developed an "intelligent" intermediate flange which considerably simplifies the measurement of speed and sense of rotation as well as the connection with coordinating control systems. What was previously only possible with time-consuming assembly and addons to drive systems is now possible in an easy and economical way both in new and existing installations.
This MIG Nova magnetic incremental rotary transmitter is designed as an intermediate flange which is simply installed between the motor and the machine flange. This makes the integration of incremental position encoders in drive systems much easier – no matter whether you use it for speed measurement, for positioning control, dosage control or for synchronisation control.
Charasteristics of MIG Nova encoders by STRÖTER:
Compact construction: depending on the motor size, the flange thickness of MIG Nova is only 7, 10 or 12 mm – this is also the space needed for installation the encoder.
Simple installation: the flange and sensors are directly fastened to the motor and the magnetic ring is placed directly on the motorshaft.
Suitable for all IEC flange motors with sizes between 56 and 180 or other flange connections such as DC motors, hydraulic/compressed air motors, pumps, etc.
Diameter from 80 to 350 mm for all IEC-Flange motors available.
nstallation between the motor and the machine flange to provide mechanical protection. No mechanical modifications required for assembly.
IP66 protection degree.
Universal HTL Signal for all standard evaluations (PNP, NPN, RS 422). TTL- (5VDC) version also available.
Easy and economical solution which is also suitable for in new and existing installations.
Short-circuit proof, polarized and overvoltage protected transmitter electronics, in SMD technology; fully integrated into the flange.
The monitoring system can be positioned up to 100 m away from the transmitter.
Possible number of impulses: 1 to 2048 (on request)
Maximum impulse frequency up to 100 kHz.
Possible motor speed up to 6000 min-1.
Temperature range: -30°C to +80°C.